Genevieve Keegan-Bedano
Attorney
Email: gbedano@hzlegal.com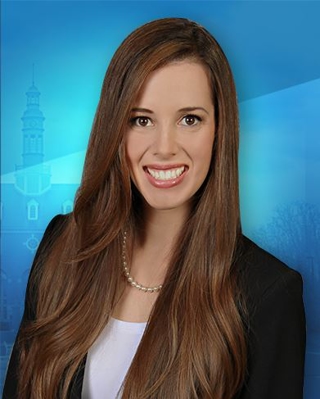 Genevieve Keegan-Bedano is an attorney at Hollingsworth Roberts Means, LLC where she practices primarily in the area of family law. This practice includes divorce and legal separation, custody, parenting time, child support, paternity, adoptions, prenuptial and postnuptial agreements, post-decree modifications and enforcement, guardianships, emancipation, relocations, protective orders, grandparent rights, military divorces.
Genevieve has extensive trial experience. She is accustomed to a variety of witnesses including mental health professionals, custody evaluators, accountants, guardian ad items, and parenting coordinators. Her trial experience has been further developed by her completion of an intensive professional training program in the art of trial skills at the National Institute of Trial Advocacy. In addition to her trial experience, Genevieve is an effective advocate in out-of-court settlement negotiations, including mediation and attorney conferences. Genevieve is a registered mediator herself and has also been trained in Collaborative Law. She has been named to the "Super Lawyers Rising Stars" list published in Indianapolis Monthly Magazine each year since 2012.
Genevieve is adept with clients who have substantial net marital estates and assets, as well as those who have considerably restricted means. She feels that considerable preparation, patience and empathy, excellent organizational skills, and frequent client communication are key factors in her successful practice. Moreover, she believes in a commitment to education on changing laws and policies.
In addition to her daily legal practice, Genevieve is involved with the family law community as an active member of local bar associations. She has been a guest speaker on the former local radio show "Crime Beat," to discuss family law legal issues and how they may be intertwined with domestic violence. She has additionally provided pro bono and reduced cost legal representation for clients through Heartland Pro Bono Council, guest lectured at the Robert H. McKinney School of Law on family law issues, and been a participate in the Indianapolis Bar Leader Series.
Genevieve selected to practice in the area of family law due to her desire to assist families. She has seen firsthand that legal disputes, regarding division of property and child related issues, can cause emotional trauma. Genevieve seeks to minimize the traumatic effects of these disputes by decreasing conflict through out of court settlements. Where such negotiation is not possible, due to false allegations and/or inability for parties to communicate, she believes in her clients and passionately advocates for their positions in court.
Education
Robert McKinney School of Law, J.D.
Western Washington University, B.A, Communication
Legal Organizations
Civic Organizations and Volunteerism
Awards and Honors
Super Lawyers® Rising Stars, (2013, 2012)
Wish to discuss your case with Attorney Keegan-Bedano? Call our office today to get started with an initial consultation.