Special Education Attorney with Hollingsworth Roberts Means, LLC
Office: 317/569-2200
Cell: 317/417-0809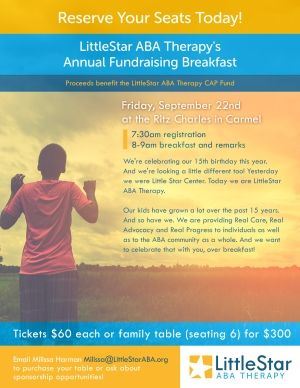 By far the most common diagnosis I see in my special education practice is autism, so this wonderful non-profit is especially close to my heart. Celebrating its 15th year and based right here in Carmel, LittleStar ABA Therapy (formerly Little Star Center) is Indiana's groundbreaking private provider of Applied Behavior Analysis (ABA) therapy for children with autism and developmental disabilities. Founded by parents of a girl with autism, LittleStar has helped hundreds of families and now operates several centers in central and southern Indiana. Check out its website at http://www.littlestarcenter.org/.
Studies have shown that ABA is highly effective in treating the debilitating effects of autism. It has given hope to countless families who've gotten a diagnosis of autism and worried about what the future holds. LittleStar provides learners with the intensive, one-on-one therapy which is essential to treat their symptoms. That's why I felt so privileged to be one of the parents involved in the launch of LittleStar fifteen years ago.
Because ABA is one-on-one and has to be administered by trained therapists under the supervision of qualified clinical staff, many families who need this therapy for their children cannot afford it without insurance coverage or Medicaid. That's why each year LittleStar hosts a fundraising breakfast to raise money for deserving families. About 80% of the families served by LittleStar benefit from this fundraiser, which is being held Friday, September 22 from 8-9 a.m. at the Ritz Charles in Carmel.
Details:
See you there!